Ben Kirschenbaum
Ben Kirschenbaum is a New York stand-up comedian and writer who currently lives ten blocks away from where he grew up. In his early twenties, he mustered up the courage to move to Chicago to pursue his dream of performing at Second City. Once he discovered that improv repels women, Ben moved back to his hometown. He's written for MTV, Clickhole, and seriouslyTV. Ben performs all over New York and headlines across the country.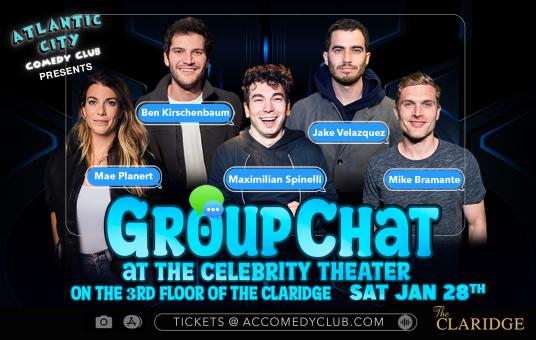 BUY TICKETS
The Group Chat ft. Maximilian Spinelli, Mae Planert, Mike Bramante, Jake Velazquez, Ben Kirschenbaum
The Group Chat is a stand-up comedy show featuring New York City based comics Maximilian Spinelli, Ben Kirschenbaum, Mae Planert, Jake Velazquez and Mike Bramante. This crew of comics are best friends with a group chat that is the main priority of their daily lives. It's less sad if you also have one. In addition to stand-up from each member of the chat, there will be segments dedicated to the titular text thread itself. It's mainly us saying mean things about each other.Atlantic City Comedy Club, now located inside the historic Claridge Hotel's Celebrity Theater, brings you the best show in town every weekend. Catch the funniest comedians from New Jersey, Philadelphia, and New York right here in Atlantic City! Your favorite comedians from late night TV, popular podcasts, and radio personalities headline our showroom each and every weekend.